June 24 – July 4, 2018
10 nights
The Highlands of Scotland, Isle of Skye, Isle of Lewis

Standing at the Clan Fraser grave stone at Culloden Battlefield in 2002, I wondered why there was no tour to connect other Diana Gabaldon fans with the beautiful story of Jamie and Claire, as well as the haunting history and dramatic beauty of the country. When I returned home I searched the internet for such a tour and found none; I decided to write my own, and the Outlander Tour® was born.
The Outlander Tour isn't just a tour - it's a travel experience. It takes you to places that make the story come to life. If the thought of walking in the footsteps of the characters gives you chills, if you long to cross the boundary between reality and fantasy, this tour is for you.
For a first-time visitor to Scotland, this is a comprehensive overview of the Highlands; for those who are returning, you'll see secret places and magical sites that are off the beaten path and that will paint a new portrait of Scotland for you.
So, join us... take a step back in time with us...

This is an extended version of the 13th Annual 7- night Outlander Tour® and is a deluxe, fully-escorted 10-night journey into the magical world of Jamie Fraser and Claire Randall who were created by the incredible talent and imagination of Diana Gabaldon. The addition of the Isle of Lewis and the Calanais Stone Circle, as well as other archaeological wonders of the Outer Hebrides, makes this extended version a once-in-a-lifetime Outlander adventure!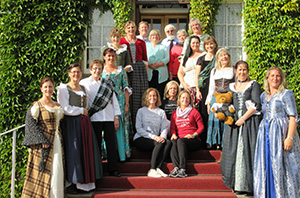 Climb to the standing stones at "Craigh na Dun" and travel back in time to 1746 and the Battle of Culloden. See the ruined cottage where Jamie and Claire said their tearful goodbye as he faced certain death on the battlefield. Sleep surrounded by the aura of the Jacobites, in the manor house where 18 wounded soldiers hid after the battle and were captured and shot -- "except for one of them, a Fraser of the Master of Lovat's regiment" and see the attic where Jamie killed Dougal! Visit Clava Cairns to learn the mysteries of ancient civilizations and their monuments, and attempt your own journey through them. Experience the breathtaking Recumbent Stone Circles of Northeast Scotland and a visit to Castle Fraser, where a portrait of "Jamie" hangs in surroundings of mesmerizing 18th-century elegance.
Search for the Marriage Stone and Black Jack's grave at St Kilda Cemetery and view the remains of Broch Tuarach from the mountains overlooking Broch Mordha. Visit the museum which houses artifacts from the Highlands over hundreds of years, the "secret portrait" of Bonnie Prince Charlie, the flask owned by Dunbonnet, the bagpipes played at Culloden.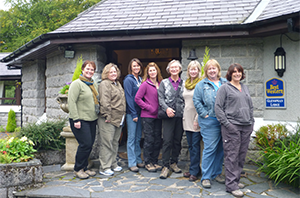 Join in our personal tribute to the Jacobites who fought and lost the battle at tremendous cost to the Highland Clans. Cruise on Loch Ness with a sharp eye in search of the Waterhorse.
Wander the streets of old Edinburgh in search of Carfax Close and the print shop owned by A. Malcolm. Spend a day on Edinburgh's Royal Mile, with a visit to the famous Edinburgh Castle and the Palace of Holyroodhouse, where Jamie and Claire beseeched the Prince to abandon his hopeless cause. Enjoy the special presentation of a Scottish historian and bring an 18th-century costume for an evening of time travel and mystery. Come back in time with us, and bring your Outlander fantasies to life!
Also: Book discussion, master trivia contest, prizes and surprises. A trip that you'll never forget!
A Few Highlights:
Inverness, where the adventure unfolds at Mrs. Baird's in 1945
Gwyllyn the Bard, evening performance of Gaelic singing and folklore with Gillebride MacMillan
The Standing Stones, three opportunities to step back in time!
Isle of Skye and Flora Macdonald's grave
Isle of Lewis, Calanais Stone Circle!
St Kilda's Kirk where Claire discovers the marriage stone
The View of Broch Tuarach, Lallybroch, near the small village of Broch Mordha
Culloden Battlefield, and the farmhouse where Jamie and Claire said goodbye
Jacobite Soldier, performance at Culloden House, period costume dinner
Doune Castle, "Castle Leoch"
Urquhart Castle where Claire and Frank picknicked
Loch Ness and an opportunity to "Search for the Waterhorse"
Dunnottar Castle, overlooking the North Sea
Castle Fraser, a Fraser of Lovat castle dating back to the 15th Century
Edinburgh Castle and Palace of Holyroodhouse
Tour begins in Glasgow and ends in Edinburgh. It is suggested that you arrive one day early (June 23) to avoid flight delays and cancellations.
Accommodations:
| | | |
| --- | --- | --- |
| Pre-tour         | Glasgow – Center City | Carlton George Hotel |
| June 24 & 25 | Roybridge, near Fort William | Glenspean Lodge Hotel |
| June 26 & 27     | Tarbert, Isle of Harris | Hotel Hebrides |
| June 28                        | Stornoway, Isle of Lewis | Cabarfeidh Hotel |
| June 29 & 30    | Culloden, near Inverness | Culloden House Hotel |
| July 1 | Banchory | Banchory Lodge Hotel |
| July 2 & 3        | Edinburgh – Center City | The Knight Residence |
Includes:
Private transfer from Glasgow Airport to city center
En suite accommodations in 4-star properties
Full Scottish breakfast daily (Continental breakfast in Edinburgh)
Five 3-course dinners, including costume night at Culloden House
Cruise on Loch Ness
Professional Blue Badge Guide
Deluxe motor coach transportation
Private tour of Culloden Battlefield
Private tour of Castle Fraser
Entry fees into all sites listed
Tax of 20%
Price:
$4,595 per person, double occupancy (two guests sharing one room). Single supplement is $900. Single travelers have the option of sharing a room with other singles (if available) to offset this supplement, but this is solely at the discretion of the travelers and not the responsibility of Celtic Journeys.
More information:
Reservations require a non-refundable deposit of $500 per person. Visa, MasterCard, American Express, Discover, PayPal, and checks payable to Celtic Journeys are accepted forms of payment. Balance is due 60 days prior to departure, at which time penalties apply. Travel insurance is highly recommended.
Airfare is not included; Celtic Journeys can make your arrangements for you with no booking fees. Tour begins in Glasgow and ends in Edinburgh; additional hotel nights at the beginning and end of the tour are available at reduced rates; booking service is complimentary.
To book, or for additional information, contact judy@celticjourneys.us , or call (703) 941-6455. Tour is limited to 16 guests. Tours are never cancelled except in the event of a natural disaster, airline strike, or travel warning of imminent danger.
Cancellation Policy:

Cancellation insurance is available to protect against cancellation penalties:
60 days or more prior to tour date full refund less deposit
59-30 days prior to tour date 50% refund less deposit
29-15 days prior to tour date 25% refund less deposit
Cancellations of 14 days or less, no refund